Belgian hoppy beer
The start
The story of L'Arogante starts in La Roche-en-Ardenne, in a pub. (where else?)
A Flemish (Leslie) and a Walloon with a shared passion: tasting and brewing good beer. The first steps in the brewing process were then taken in a garage in the Ardennes, and the hoppy recipe was further developed and refined in Leslie's garage in Ghent. And so, L'Arogante was born. A merger of La Roche-en-Ardenne and Ghent, the best of what our country has to offer ...
Pedro and Nicolas, two friends of Leslie, one from Ghent, the other from La Roche-en-Ardenne, discovered L'Arogante and immediately started working on giving this beer its well deserved place in the Belgian beerworld.
Arrogant beers?
Its name has two meanings. L'Arogante is first and foremost the merger of La Roche-en-Ardenne and Ghent but it's also an arrogant beer with attitude, it claims to be the most Belgian and the 'hoppiest'. …
Arrogance is far from being a Belgian quality, Belgians can be overly modest but we believe we can be proud of our country and its vast beer culture. And maybe exaggerate a little for a change...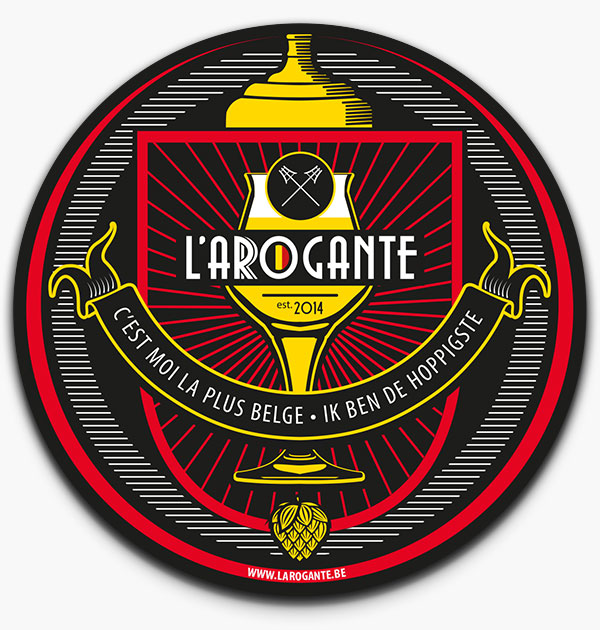 Our ingredients
Water, malted barley, hops and yeast. With those four ingredients, you can brew the most versatile beers, the combinations are almost endless.
We love all four but we're crazy about hops! Nothing too excessive, no bitterness for bitterness's sake but an elegant and balanced ensemble with hops in the leading role. And that goes for all of our beers:
L'Arogante, our first beer, easily drinkable with a typical soft bitterness and fruity, citrusy flavors.
The Stout-ish, an American stout that combines the lovely fruity aroma's of hops with chocolate and coffee flavors.
The third in line is the Session, hoppy, fresh and low in alcohol (3.9% ABV)
Beer unites!
We love to work together with people who share our passion. So it's no coincidence that we cooperate with the Proefbrouwerij in Lochristi, a stone's throw away from Ghent. In close consultation, the designer of L'Arogante, himself a bio-engineer, and the Proefbrouwerij perfected the recipes and translated the homebrews into the beers you now (get to) know.
Not only does the brewer of the Proefbrouwerij share the same passion for beer as the designer of L'Arogante, he's also fascinated by the technology of the brewing process and the biochemical reactions that underlie the taste and aroma development in beer.
Their state of the art laboratory specializes in sophisticated hop analyses and has rightfully acquired world-renown in this field. So it's no surprise that we have entrusted the Proefbrouwerij with the proper care of our beers.